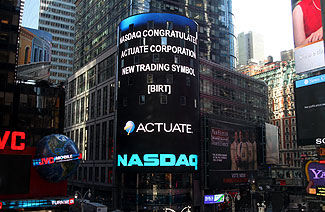 Third Quarter Fiscal 2013 Earnings Conference Call – November 5, 2013 – 5:00 PM Eastern


Oppenheimer 16th Annual Technology, Internet & Communications Conference – August 14, 2013 – 2:25 PM Eastern

Corporate Profile
Actuate founded and co-leads the BIRT open source project, which is used by more than 2.5 million developers around the globe and serves as the foundation of Actuate's commercial offerings. Applications built with BIRT and BIRT iHub deliver more business and consumer insights to more people than all BI companies combined - ensuring organizations are ready for the exponential growth of Big Data and the proliferation of touch devices.
Actuate's BIRT and BIRT iHub empower developers to rapidly develop custom, BIRT-based business analytics and customer communications applications. Applications built with one BIRT design can access and integrate any data, including unstructured sources. They provide a seamless user experience regardless of skill level and are supported by BIRT iHub for any cloud, hybrid, on-premise, web or touch device deployment.
Headquartered in Silicon Valley, Actuate has over 5,000 customers globally in a diverse range of business areas including financial services, technology and the government. Actuate is listed on NASDAQ under the symbol BIRT. For more information, visit www.actuate.com or engage with the BIRT community at www.birt-exchange.com.
Copyright © 2013 Actuate Corporation. All rights reserved. Actuate, BIRT iHub, BIRT Analytics and the Actuate logo are trademarks or registered trademarks of Actuate Corporation and/or its affiliates in the U.S. and certain other countries. The use of the word "partner" or "partnership" does not imply a legal partnership relationship between Actuate and any other company. All other brands, names or trademarks mentioned may be trademarks of their respective owners.
Recent News
Want to learn more about our company?
Please contact an Actuate IR Representative at 650-645-3555 (US or Canada) or by email at IR@actuate.com.